Our Temple, the London Sri Chaitanya Sarasawat Math is situated in the East End of London, just opposite the West Ham United football ground in Upton Park.
Google Maps: Sri Chaitanya Saraswat Math
Address:
466 Green Street
Upton Park
London E13 9DB, U.K.
Phone: (0208) 552-3551
Fax: (0208) 552-4836

Nearest London Underground Station: Upton Park
We have a daily spiritual program beginning with Mangal Arati (Auspicious sunrise hymns and prayers to the temple Deities). You are very welcome to join with us every day and particularly on Sunday when we have our traditional Sunday Festival beginning at 11am and culminating with a sumptuous vegetarian feast of sanctified foods (prasadam).
Our Daily Program:
Mangal Arati: 5.00 am
Chaitanya Bhagavat Class: 6.00 am
Noon Raja Bhoja Arati: 12.00 midday (Except Sunday) 1.30 pm
Darshan of the Temple Deities: 5.00 pm
Srimad Bhagavat Class: 5.15 pm
Sandhya Arati: 6.00 pm
Chaitanya Charitamrita Class: 7.30 pm
Darshan Ends: 9.00 pm
Temple Closes: 9.30 pm
As our Ashram is very small we have very limited facilities for overnight guests. Should you wish to stay overnight please contact the Secretary or Temple Manager well in advance.
All overnight stays are subject to the approval of the secretary.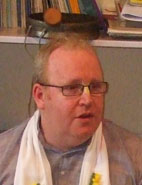 UK Mission Secretary: Devashis Das
.
.
.
.
.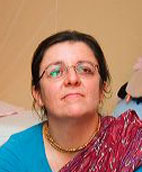 Temple Manager: Lavanya Mayi Devi Dasi
.
.
.
.
.
.
.
.